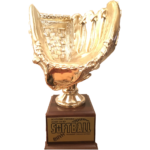 St. Anthony of Padua (STA)
Congrats to STA!
The reigning champions of the SBCASL (2015, 2016, 2017 & 2018)
The South Bay Catholic Adult Softball League is entering its 32nd Season of softball play, demonstrating fellowship, exercising spirituality, character building, faith sharing, exemplifying sportsmanship, and developing integrity. If you would like engage in some organized team activities with like-minded individuals and make new friends, we invite you to join us.
If you have any questions, feel free to email our new commissioner,
Jaymer J. Suarez.